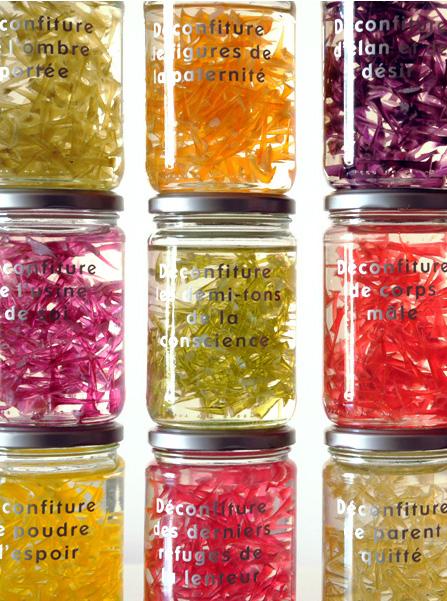 Preserved Decline - Paris 2011
Installation of 15 glass jars,
inside which are imprisoned replicas
of coloured epoxy resin acacia thorns.
Silver lids and typographies.
Width 40,5 cm, height 34,5 cm, diameter 7,3 cm.

Melancholic collisions of that which
slips away, fades, becomes fragile, mutates,
disqualifies and fails in the course of our
existence and transforms us into powerless
onlookers of our own intranquillity.
Preserved decline of drop shadows
Preserved decline of figures of paternity
Preserved decline of ardour and desire
Preserved decline of blending of death and love

Preserved decline of the tail of century

Preserved decline of one's inner works

Preserved decline of semitones of consciousness

Preserved decline of the male body

Preserved decline of ancient knowledge

Preserved decline of working lifetime

Preserved decline of hope dust

Preserved decline of the last havens
of slowness

Preserved decline of deserted parent

Preserved decline of managerial practice

Preserved decline of intimate fragmentation